"Put it before them briefly so they will read it, clearly so they will appreciate it, picturesquely so they will remember it and, above all, accurately so they will be guided by its light.
Joseph Pulitzer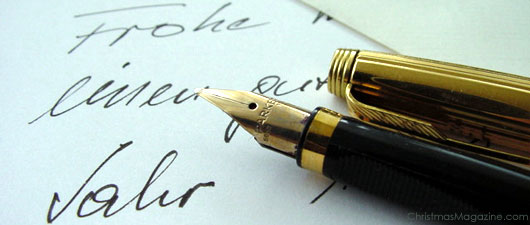 It takes a clear and focused mind in order to get into the spirit of writing the Christmas cards to family and loved ones. Here are a few thoughts that one might consider before starting the writing:
Create a draft.
Ask yourself: why do I write this card?
Write your Christmas mail with a positive spirit.
Don't brag.
Keep it short and interesting.
Only send religious Christmas cards to Christians. For the rest of your circle of friends and acquaintances use "Season's Greetings".
Watch your penmanship and spelling.
Don't forget to sign the card and put your address on the back of the envelope.
Keep an updated address book. Be sure to also keep track of changes in the marital status of your friends and family as well as the names of their partners. The same goes for loved ones who may have passed away.
Make the writing of your Christmas mail an event and not a chore. Light a few candles, pour yourself a glass of your favorite drink, play Christmas music or have a movie running in the background.
The Art of the Handwritten Note
A Guide to Reclaiming Civilized Communication
Margaret Shepherd
As Margaret Shepherd outlines in her book, if you are to busy to handwrite anything to your friends at holiday time, maybe you should send cards only every second year, reduce your mailing list, have your family help out, or send a personalized "after Christmas" card in January, when you are less stressed.
If you like to correspond with your loved ones, Margaret Shepherd's book is highly recommendable. It's beautifully written and very inspiring. Order the book.
.